DUI Accidents
Approximately three out of every ten drivers in the United States will be involved in an alcohol related motor vehicle accident. While some of these accidents may be minor, many lead to catastrophic injuries and fatalities. Too many people are under the assumption that they can drive cautiously after consuming alcohol, even though it is a proven fact that when people drive under the influence, their motor skills and coordination are greatly impaired. When a person's motor skills are impaired, accidents are more likely to happen. Many DUI accidents result in the death of the impaired driver, passengers, and other drivers.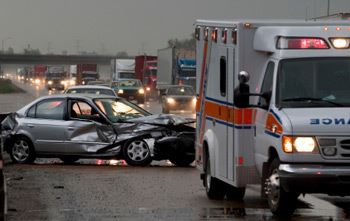 Due to an escalation in DUI related accidents, California legislation has become very strict. Even if a person is a first time DUI offender, he or she is subject to harsh legal consequences if convicted. In fact, a person's criminal sentence can be enhanced if he or she caused an accident while driving under the influence. If a DUI accident resulted in the wrongful death of another person, the impaired driver can be charged with vehicular manslaughter and can also be sued in civil court for causing wrongful death.
The legal penalties for DUI accident convictions are severe.
If a person is convicted of causing an accident while driving under the influence, he or she may be sentenced with imprisonment, monetary fines, probation, community service, DUI School, driver's license suspension, and vehicle impoundment. Additionally, convicted DUI offenders will have a negative mark on their criminal record, which can limit their future housing, employment, and education opportunities.
If you have been involved in an accident while driving under the influence, you should speak with a Marin County DUI attorney immediately. He can review your case for hidden errors, question witnesses, challenge evidence presented against you, and negotiate with prosecutors.
Marin County DUI Attorney
Attorney Robert Tayac has helped clients from all throughout Marin County combat their DUI charges with much success. Mr. Tayac is a reputable and understanding attorney, who is extremely knowledgeable when it comes to DUI law. Unlike other attorneys, Robert Tayac's primary focus is DUI law. His years of DUI practice experience and winning track record speak for him.
As a well-qualified DUI Attorney, Mr. Tayac is dedicated to his clients' needs and to producing outstanding results on their behalf. With professional DUI Attorney Robert Tayac on your side, your chances of successfully fighting your charges and avoiding a conviction in Marin County will greatly increase.
Marin County DUI lawyer Robert Tayac represents people arrested in the following communities:
Belvedere, Bolinas, Corte Madera, Dillon Beach, Dogtown, Fairfax, Greenbrae, Inverness, Inverness Park, Kentfield, Lagunitas-Forest Knolls, Larkspur, Marin City, Marshall, Mill Valley, Muir Beach, Nicasio, Novato, Olema, Point Reyes Station, Ross, San Anselmo, San Geronimo, San Rafael, Sausalito, Stinson Beach, Tiburon, Tomales, Woodacre.
Contact the Law Office of Robert Tayac for your free case evaluation!